← Back to all posts
Talis Hardware Hack (May 2014)
If you want creative workers, give them enough time to play. ~ John Cleese
Collaboration, it turns out, is not a gift from the gods but a skill that requires effort and practice and in recognition of this we've been trying to make sure that we give ourselves more time to creatively explore ideas as a team.
---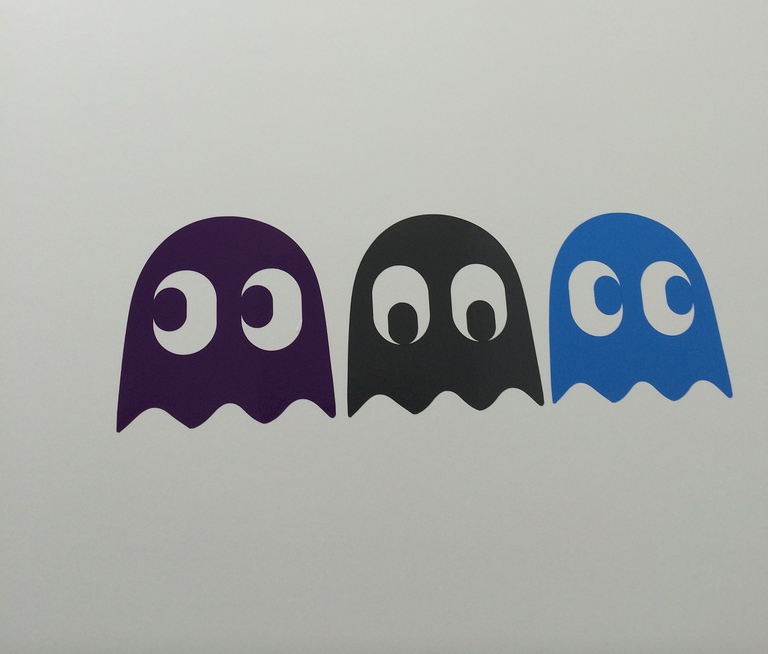 At Talis we've had a number of internal hackdays over the years which are primarily intended to be a fun way for us all to explore ideas in small self selecting teams. Plus, there's a lot to be said for taking a step back from day to day activities and responsibilities in order to focus on working better together as a team.
On 28th - 29th May held a hardware-themed hackday, but before I summarise how that went I'd like to take a few moments to describe how we organise these events.
Last year we changed our approach to hackdays in order to make them more open, so that everyone at Talis (including non-techies) has the opportunity to be involved, but also more structured so that teams have time to self-select, get organised and loosely agree what they want to achieve all before the actual event.
To ensure this can happen we hold a pitch event a week (or two) before the actual hackday. Anyone who has an idea can pitch it to the rest of the company. The only rule we have is that an idea must have more than one vote for it to make it to the hackday, in other words you cannot work on an idea on your own; you must convince at least one other person to work with you. It's all about team work.
Once all the ideas have been pitched, and everyone has voted, the teams are finalised. The hackday itself is a two-day event, this gives teams time to really sink their teeth into a problem and gives them time to deal with problems when they arise and try alternative solutions etc. We end the second day with a show-and-tell where teams present what they've been working on, they explain what they've learned, what went well, what didn't go so well and what additional work, if any, they'd like to do.
Talis Hardware Hack May
2014

The event was themed as a hardware hack which simply meant that all the ideas being put forward should have some hardware component to them. In the end we had 26 different ideas presented at the pitch event. After voting had completed 5 ideas were carried through and worked on over the two days. Here's a brief summary of the projects:
Raspberry Pi Arcade
Machine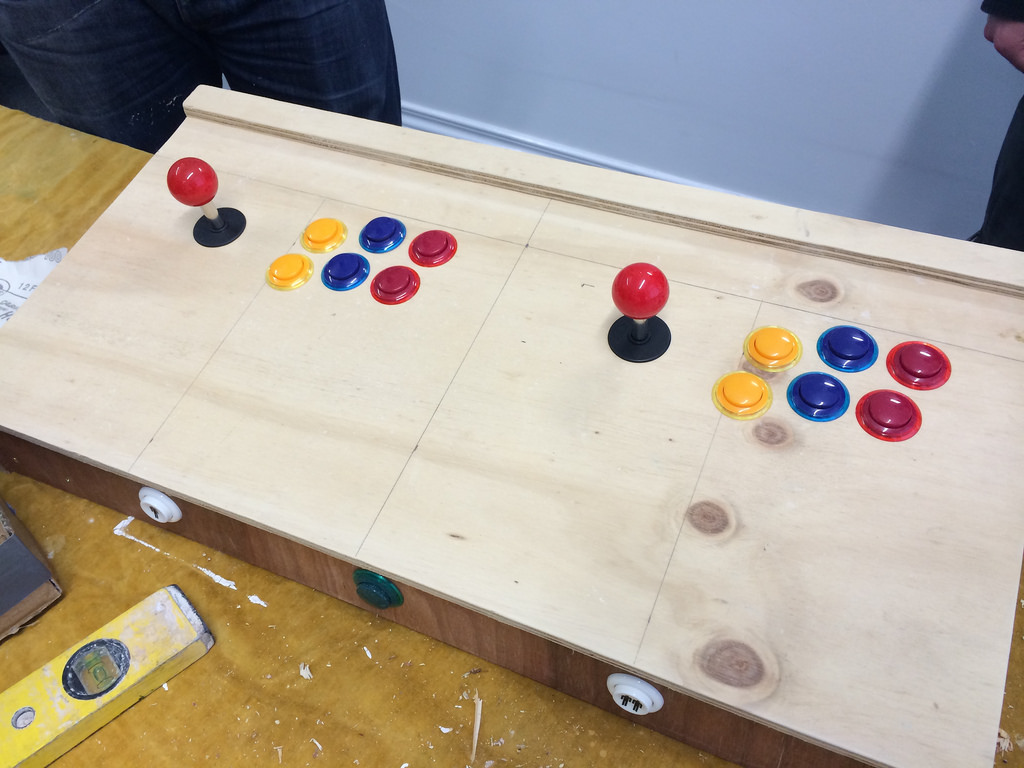 As the name suggests this project involved building a portable arcade machine cabinet powered by a Raspberry-Pi. The portable unit was made from bits of wood Matt found in his shed that we cut down to size. The unit itself hinges open for easy access to the hardware inside. The end result looks and feels pretty amazing and was christened ~ The Beast.
Got Milk
One of the problems we face at the new office is never knowing when we've run out of milk. This project attempted to address this by building a pressure sensitive pad, that sits in the fridge onto which we place our milk cartons/bottles. The pad is connected to a Raspberry-Pi, which in turn is connected to our wifi network, and alerts us in HipChat when we are running low on milk.
Hack the walls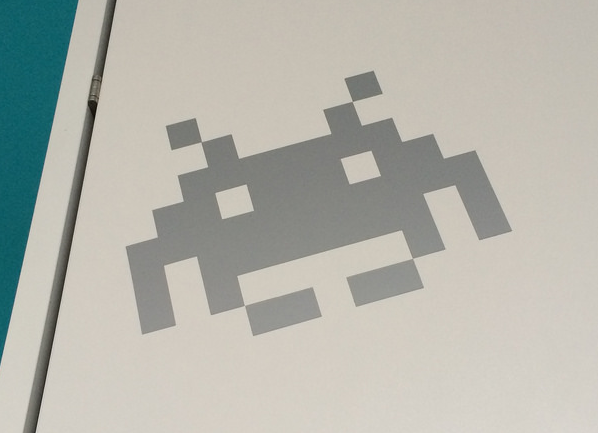 Since moving into the new offices at Christmas we've been looking for ways to make the space feel more playful, more comfortable and more like us. Jeremy volunteered to bring in his awesome vinyl printer and use it to print decals for the walls and some of our laptops, as well as signs for some of the rooms.
Git-shots wallframe / Pimp up the
TV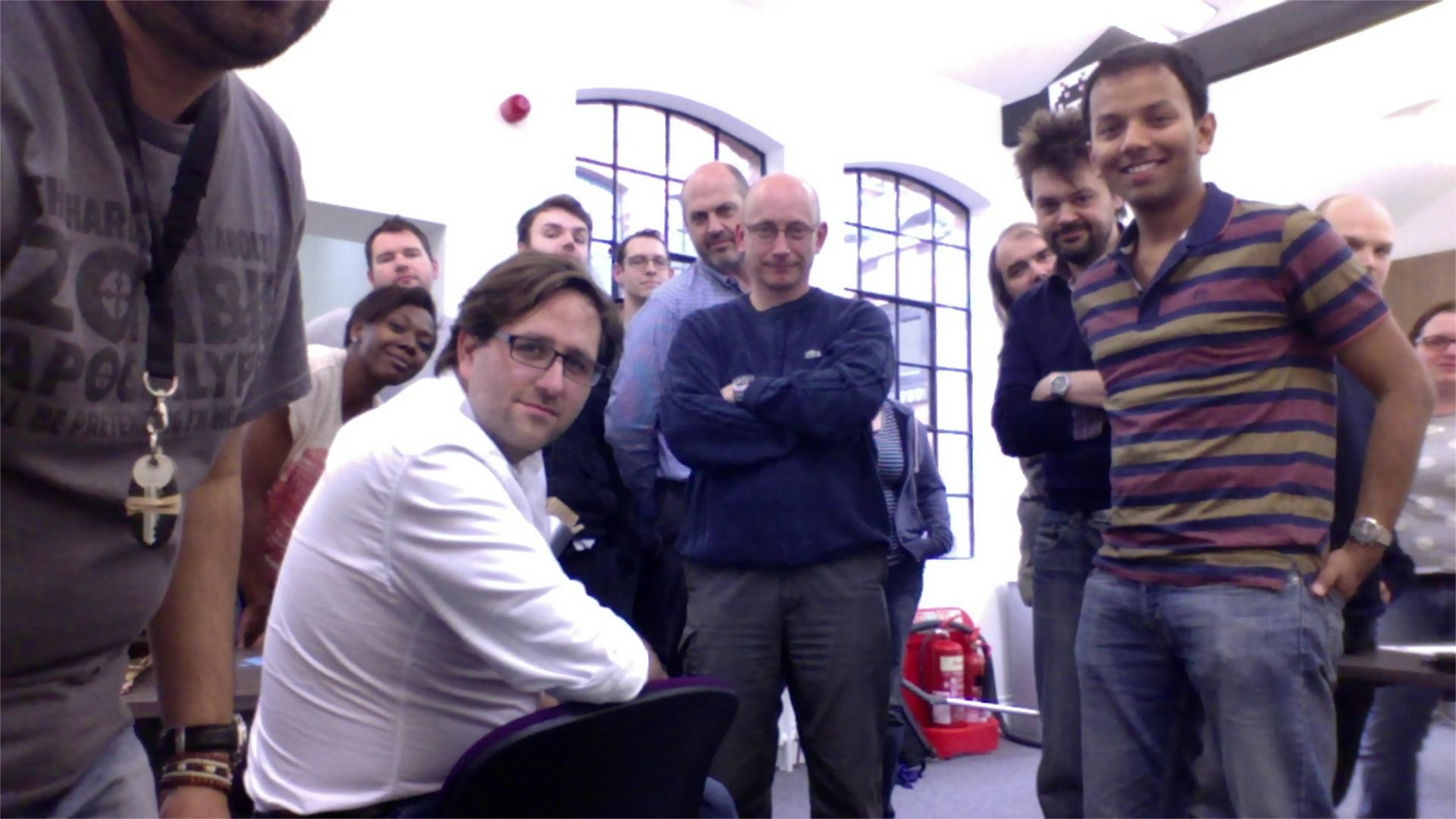 We combined two ideas into one for this. We use Git-shots to take photos of developers every time they commit to a project, we then store those photos centrally so we can retrieve them by the individual or project and animate them. This allows us to look back over time and be amused by just how much we've all changed :) We also implemented a Samsung TV App that hooks into this feed so we could leave it running on the large TV we have in reception.
Monitor Wall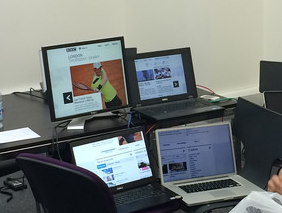 Over the years we've accumulated lots of spare desktop monitors. We decided to see if we could connect a number of them together in a way that would allow us to use them as a large monitor wall so we could either run a single video across them all, or send content to them individually.
Finally … some Arrow
Making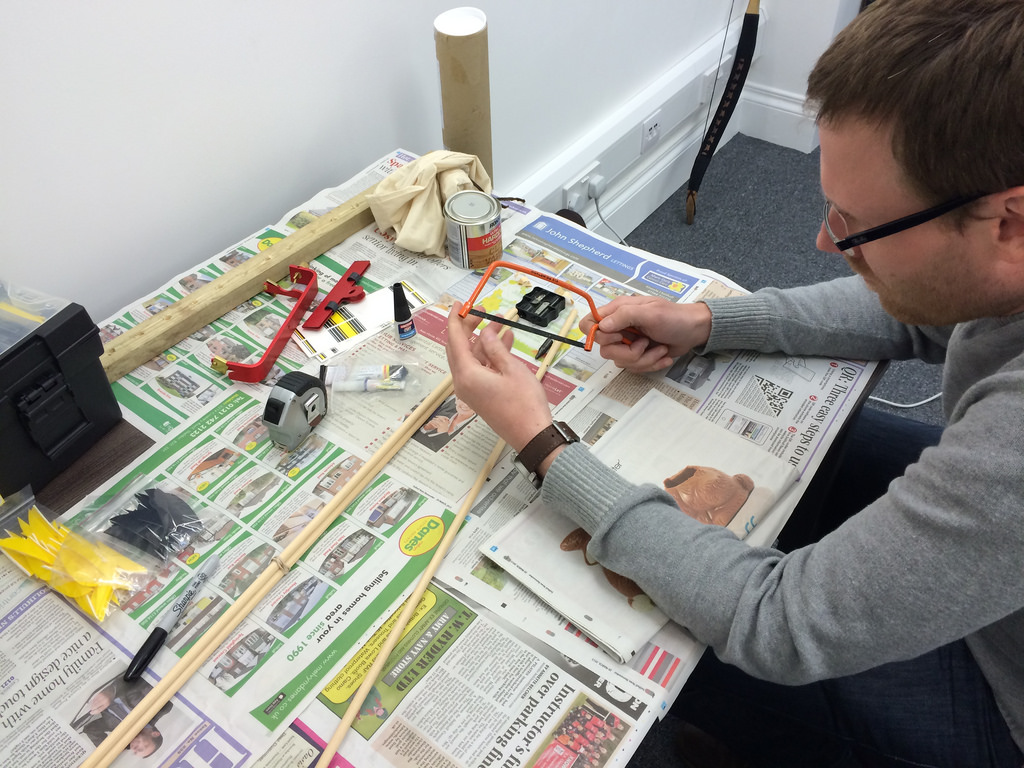 It's no secret that I love archery and that I've been making my own wooden arrows. I agreed to bring my arrow making equipment in and teach everyone who was interested how to make wooden arrows. I'm actually really impressed at how well they all did; I have tested the arrows and they are all perfect. I'll be shooting the arrows the gang made for me at my next competitive shoot.
What's next
Over the next few days some of the project teams will be posting up more details about their invidual projects. We also took a few photos over the two days which you can view here. We've already started thinking about the next event and have had some great ideas for themes. Whilst these events have been internal we have invited others to join in, if you'd be interested in taking part ping me @kiyanwang.
---